Tom Kelly Development Scholarship
In memory of our long time serving coach and DAC life member, Tom Kelly,  his family together with the DLAC & DAC have established the Tom Kelly Development Scholarship.
The Scholarship's aim is to assist in the development of athletes & coaches so that they can realise their ambition and potential.  This is an investment in the future of the Doncaster Athletic clubs and the wider community.
The Tom Kelly Development Scholarship will be awarded annually to one junior and one senior member of the Doncaster Athletic community, who has demonstrated the qualities and values that Tom so strongly exhibited :-
Work Ethic  – An outstanding commitment to training and/or coaching
Team Focus – Embracing the club spirit and team values
Teaching & Leading – A willingness to share knowledge, encourage and mentor others
Self Development – Defining goals and showing a determination to reach them
Winners:             Senior                              Junior
| | | |
| --- | --- | --- |
| 2022 | Alessandra Flynn | no nomination |
| 2021 | Lachlan Parrott | no nomination |
| 2020 | Oscar O'connor | no nomination |
| 2019 | Christian Christopher | Alessia Wynne |
| 2018 | Jessica Ng | Harriett Glover |
| 2017 | Zach Nunis | no nomination |
| 2016 | David Mitchell | Stephanie Ratcliffe |
| 2015 | Wesley Spargo | Samantha O'Connell |
| 2014 | no nomination | Nicole Reynolds |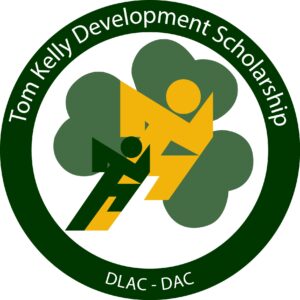 All registered and financial members of DLAC & DAC are eligible for the scholarship.
Prior to the conclusion of the Athletics season, nominations for the Scholarship are to be submitted to the DLAC & DAC Committees.   The junior and senior recipients will then be chosen by the respective Committee in conjunction with the Kelly family.
At the conclusion of the Athletics season, each Scholarship will be presented in the form of a commemorative award together with $500.
It is envisaged that the Scholarship could help fund coaching courses and seminars,  travel to competitions and the purchase of equipment for athletes or coaches.
Donations to the Scholarship can be made HERE
Thank you note from the Kelly Family after the 45th Anniversary Dinner and Tom Kelly Scholarship Fundraiser HERE