Pantelis (Peter) Coumaros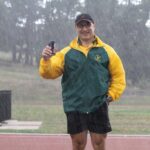 Events Coached: Throws and Jumps . Also experience in relays and strength and conditioning.
AA Coach Level: Accreditation number# 3455. Events-: Level 3 Advanced  – Jumps and Throws
Experience:  Junior athletes to State level in Throws and Jumps. Coached U15/14 girls relay squad.
Years Coached: Coaching since 1999 – Started at Little Athletics and progressed into Seniors.
Contact Details: Mobile phone – 0401 993 218, Email – mpcn@optusnet.com.au
Nights Available: Tuesday and Thursday nights during the summer time.
Charges: No fee to DAC members
Additional Information:
Competed as Junior in Throws and currently compete for DAC in Shield competitions.
Complete in the Victorian Masters competition –  Won 4 medals in National Masters Competition last season all in Throws; One Gold, Two Silver and One bronze.
Have won and placed second in three Throws Pentathlons in last three years in Masters competition.
Currently compete in the 50-55 year old age group.
Both children compete for DAC, also member DAC runners group.
Level C Official