by Graham Ford
The tenth round of Shield saw Doncaster return to their home track and this was reflected in increased numbers. Men's 40+ and Under 14, and Women's Open, Under 18 and Under 14 scored their highest points for the season. Unfortunately, with a High Velocity meeting the night before, some of the sprinters skipped the individual events, though they did come to support the club in the relays.
Alessia Wynne with 5.38m in the long jump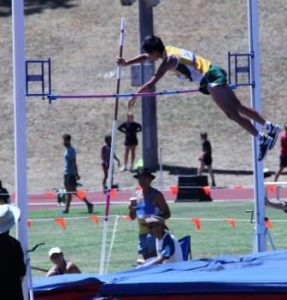 Kai Sapolu clears 2.80m in the pole vault
Congratulations to Conrad Coumaros and Liam Procaccino on breaking the 48 second barrier in the 400 metres at the High Velocity meeting. Also to Kai Sapolu breaking the under 14 record for the 200 metres hurdles.
Liam Procaccino on the inside passes the baton to Daniel Minz in the 4×100 relay
Results:
Men's Open
100 metres: Jordan Munyard 11.44 (435), Emerson Shiel 11.70 (409)
800 metres: Tristan Robinson 2:05.0 (419), Alastair Christy 1:57.2 (invitation)
1500 metres: Anthony Paige 4:37.6 (297)
5000 metres: Benjamin Lucas 16:48.4 (357), Tristan Harradine 17:13.4 (313)
4 x 100 relay: Doncaster 42.90 (Invitation)
Men's 40+
100 metres: David Firth 12.43 (387), Paul Mierisch 12.48 (379), Warren Hattwich 13.30 (319), Darryl Kilmartin 14.78 (199)
400 metres: David Firth 54.20 (461), Paul Mierisch 58.24 (365), Darryl Kilmartin 70.84 (199), Graham Ford 86.99 (174)
1500 metres: Campbell Mclennan 4:51.5 (390), Darryl Kilmartin 6:02.5 (191)
5000 metres: John Curry 20:06.7 (281)
2000 metres walk: Campbell Mclennan 13:11.5 (288)
4 x 100 relay: Doncaster 52.13 (293)
Discus Throw: Graham Ford 26.68 (442), Paul Mierisch 32.14 (432), Peter Coumaros 23.99 (371)
High Jump: Nicholas Burkitt 1.65 (445), Michael Scales 1.45 (430)
Javelin Throw: David Firth 41.98 (461), Peter Coumaros 24.54 (390), Graham Ford 19.49 (361)
Long Jump: Paul Mierisch 5.06 (391), Warren Hattwich 4.43 (328), Darryl Kilmartin 4.03 (302)
Pole Vault: Jim Poulter 1.90 (313), Darryl Kilmartin 1.90 (197), Warren Hattwich 1.90 (173)
Men's Under 18
1500 metres: Ben Munks 5:13.45 (188)
Discus: Declan Carman 54.20 (520)
Javelin Throw: Ben Munks 33.93 (355)
Shot Put: Declan Carman 13.92 (433), Declan Carman 15.94 (Invitation)
Men's Under 16
100 metres: Thomas Reynolds 12.66 (264)
400 metres: Thomas Reynolds 57.97 (272)
Discus Throw: Owen Rice 50.00 (459)
Hammer Throw: Owen Rice 45.76 (430)
Javelin Throw: Lachlan Parrott 20.17 (194)
Shot Put: Owen Rice 15.17 (428)
Men's Under 14
100 metres: Lachlan Marasco 14.13 (179), Lachlan Reynolds 14.15 (179), Noah Sewak 14.19 (178), Brodie Mierisch 15.15 (158), Felix Hattwich 16.37 (133)
400 metres: Benjamin Purser 60.90 (216), Noah Sewak 61.29 (208), Lachlan Reynolds,61.80 (199), Lachlan Marasco 63.06 (195), Kai Sapolu 65.80 (185), Brodie Mierisch 80.35 (134)
1500 metres: Benjamin Purser 4:36.4 (303), Charlie Oakley 5:33.4 (167)
200 hurdles: Kai Sapolu 33.13 (228) (club record)
2000 metres walk: Liam Mclennan 11:17.9 (319)
Discus Throw: Kai Sapolu 27.55 (261), Brodie Mierisch 22.62 (179)
Javelin Throw: Kai Sapolu 26.22 (240), Brodie Mierisch 22.62 (199)
Long Jump: Noah Sewak 4.88 (270), Kai Sapolu 4.60 (220)
Pole Vault: Kai Sapolu 2.80 (267)
Women's Open
100 metres: Stephanie Larkin 13.36 (401)
400 metres: Katherine Katsanevakis 59.18 (445), Stephanie Larkin 60.17 (431)
400 metres hurdles: Stephanie Larkin 62.8 (500)
2000 metres walk: Laura Mclennan 12:25.9 (303)
Discus Throw: Charmaine Smith 24.82 (416)
Long Jump: Charmaine Smith 3.50 (251)
Women's Under 18
100 metres: Alessia Wynne 13.04 (428), Rebecca Munyard 13.65 (355), Alana Mierisch 14.14 (284)
200 metres: Joanna O'Connell 27.31 (410)
400 metres: Alana Mierisch 78.17 (182)
100 metres hurdles: Alessia Wynne 15.98 (invitation)
4 x 100 metres relay: Doncaster 53.88 (373)
High Jump: Alana Mierisch 1.50 (416)
Discus Throw: Alana Mierisch 15.03 (202)
Long Jump: Alessia Wynne 5.38 (476)
Women's Under 14
100 metres: Sisley Rosano 13.88 (318), Isabella Parrott 15.26
400 metres: Isabella Parrott 73.13 (200)
1500 metres: Rachel White 5:34.0 (287), Eliza Chivers 6:08.6
200 metres hurdles: Rachel White 46.92 (100), Eliza Chivers 41.51 (Invitation)
Results of High Velocity Meet Jan 18
100 metres: Kevin Rassool 10.78
400 metres: Conrad Coumaros 47.79, Liam Procaccino 47.81, Daniel Minz 48.95
Women's 400 metres: Stephanie Larkin 58.78, Joanna O'Connell 60.60
Ladders:
Men's Open
| | | |
| --- | --- | --- |
| Collingwood | COL | 3674 |
| Doncaster | DAC | 2230 |
| Diamond Valley | DIV | 2205 |
Men's 40+
| | | |
| --- | --- | --- |
| Diamond Valley | DIV | 9094 |
| Doncaster | DAC | 7755 |
| Diamond Valley 2 | DIV | 1802 |
| Ivanhoe | IVA | 1537 |
| Doncaster 2 | DAC | 1207 |
Men's Under 18
| | | |
| --- | --- | --- |
| Diamond Valley | DIV | 6439 |
| Ivanhoe | IVA | 2922 |
| Diamond Valley 2 | DIV | 1617 |
| Doncaster | DAC | 1496 |
| Collingwood | COL | 850 |
| Preston | PTN | 306 |
Men's Under 16
| | | |
| --- | --- | --- |
| Doncaster | DAC | 2047 |
| Diamond Valley | DIV | 1666 |
| Collingwood | COL | 459 |
Men's Under 14
| | | |
| --- | --- | --- |
| Doncaster | DAC | 4166 |
| Preston | PTN | 921 |
| Collingwood | COL | 799 |
| Diamond Valley | DIV | 721 |
Women's Open
| | | |
| --- | --- | --- |
| Preston | PTN | 4335 |
| Doncaster | DAC | 2747 |
| Richmond | RIC | 1290 |
| Preston 2 | PTN | 843 |
| Preston 3 | PTN | 175 |
Women's Under 18
| | | |
| --- | --- | --- |
| Diamond Valley | DIV | 3790 |
| Doncaster | DAC | 3126 |
| Preston | PTN | 1596 |
| Collingwood | COL | 1399 |
Women's Under 14
| | | |
| --- | --- | --- |
| Diamond Valley | DIV | 2931 |
| Diamond Valley 2 | DIV | 946 |
| Doncaster | DAC | 905 |
| Preston | PTN | 683 |